Yamaha Past Masters Racing Club - Getting Started

Description goes here.
Getting started in YPM racing is very easy. Many riders who have gone on to join the class full time and have enjoyed great success, started with a weekend on our club bike. This is a highly competitive, beautifully prepared TZR250 and comes with a complete weekend of support, entry fees, fuel, spares, repairs and advice. It's like being a factory rider, all you need to do is turn up and ride. To get into the class via this route, all you need is
Membership of an organising club, e.g. Bemsee (The British Motorcycle Racing Club)
An ACU race licence to show that you have such membership, are fit to take part and have successfully completed a Competence to Compete day
Approved crash helmet with ACU Gold Stamp
Suitable one-piece leathers
Back protector
Suitable boots and gloves
Dog tag with your name, date of birth and blood group on it
ACU regulations are regularly updated to reflect latest safety measures so for detailed specifications of protective gear, the best source of information is the ACU Handbook, which can be downloaded from their web site.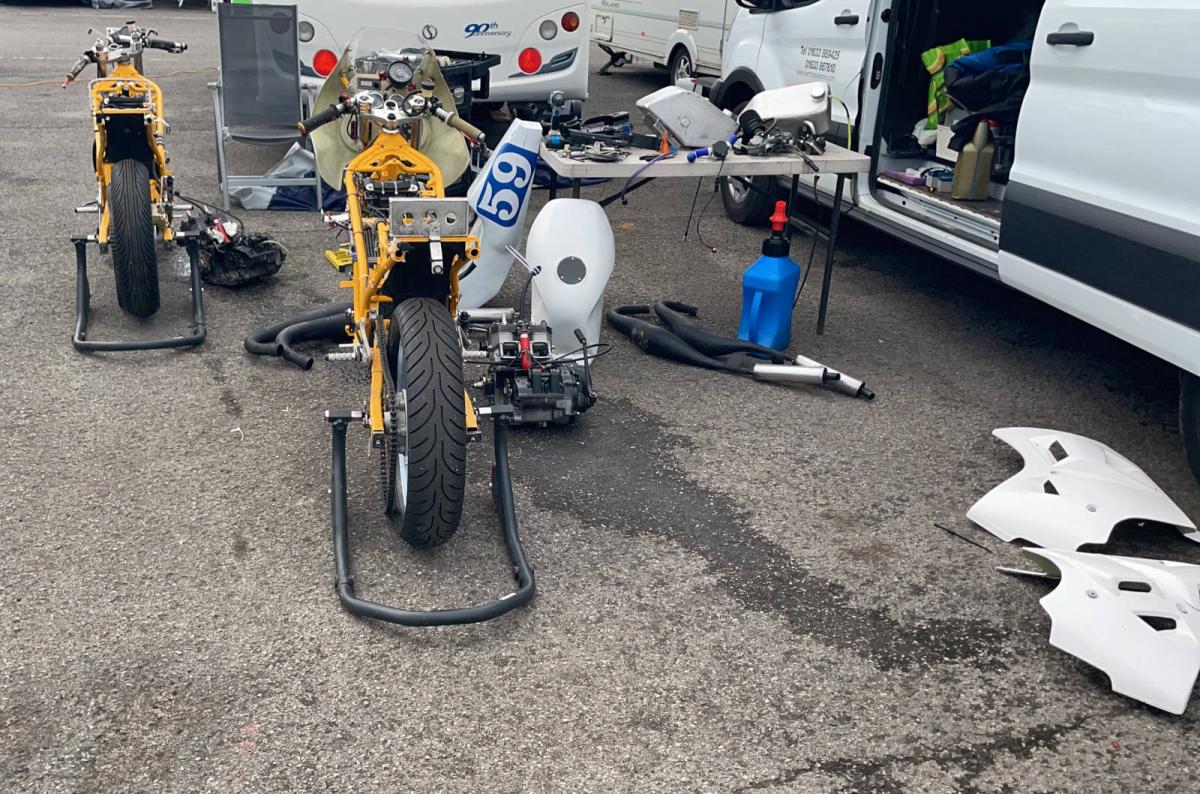 To join in right away, you will need the above list plus a suitably prepared bike, a means of transportation for it, fuel cans, tools, spares and probably some form of shelter, such as a gazebo, awning or similar. Please bear in mind when choosing the latter that most race circuits tend to be in fairly exposed places and it is worth paying a little more for something that will last, rather than be destroyed by the wind on your first outing. You will have enough to think about without chasing your gazebo around the paddock!
As for the bike, the choice of models is listed on the eligibility page, while the permitted level of modification is outlined in the Technical Regulations. The latter are additional and supplementary to the ACU Standing Regulations, which stipulate the fundamentals of race bike construction, position of components, clearances, number colours and much more, so they are well worth studying. When it comes to the final choice, there are two main options; you can either look for a ready to race bike that is being sold or convert an existing road bike. The decision will be influenced by what you have, what kind of budget you are on and the equipment/skills at your disposal.
If you choose the option of buying a race-ready bike, the best word of advice is not to rush headlong into eBay or similar, but come along to some race meetings first and talk to the riders. Very often if a bike comes up for sale, it will be offered to competitors in the same class, so by talking to people, you can tap into their network and take advantage of the 'bush telegraph'. There is very often someone who knows someone who knows someone who is selling a suitable bike. Also, if you can get to a Bemsee meeting for late Friday afternoon Jeremy Hill, the chairman of Bemsee takes groups on a track walk, during which, he imparts his encylopaedic knowledge of British Race tracks. This can save newcomers much time, trouble and study by giving them a valuable insight into lines and braking/accelleration aareas before they arrive at them on their bike. YPMers are always happy to help anyone in need of it with advice or practical spanner-wielding when necessary.